Most Eco-Friendly Outdoor Shades
To add beauty and looks elegant to your outdoor space, one of the top choice of outdoor shades is bamboo balconyblinds, made from natural bamboos provide a natural appearance and homely for outdoors. It gives a warm and calm atmosphere. These blinds also suitable for indoor use.
A custom-made blinds with a various style that you can choose from natural shades, combination of black & white colour or any other color design.
In addition, Bamboo balconyblinds also has an optional to add backing layer either transparent which is commonly use or any colour of canvas material to prevent rain water.
Bamboo Backing
Colour: Clear PVC

Bamboo Backing
Colour : Blue, Green and White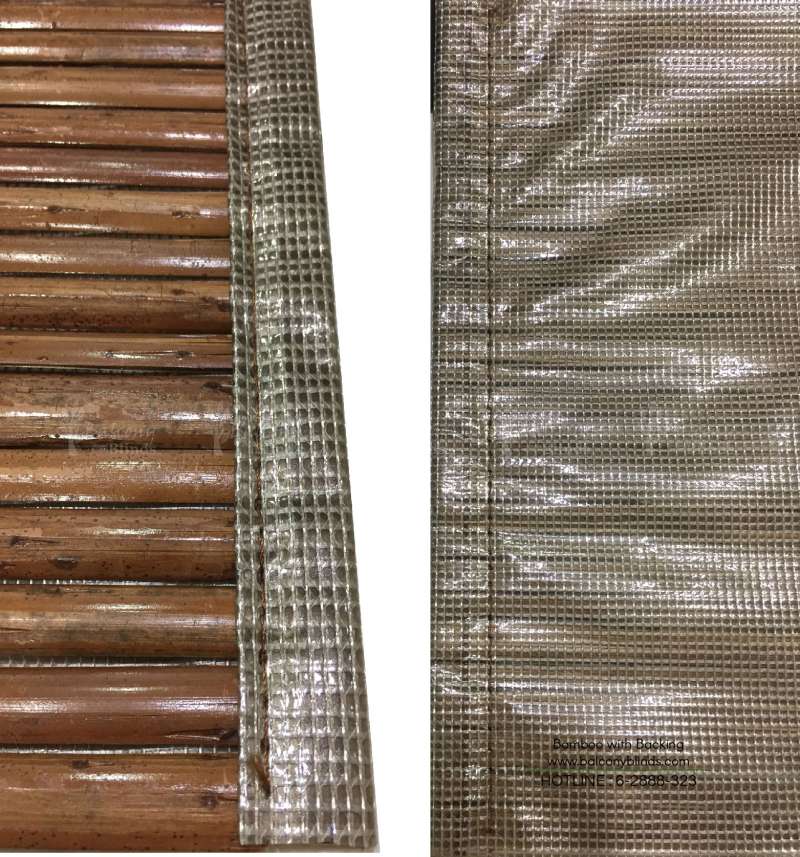 Bamboo Backing
Colour: Silver
Balconyblinds Modern Bamboo Blinds are made of selected woven Attap Reeds slats source from Malaysia Highlands. Bind to a solid Asian wooden head & bottom rail that can withstand tropical harsh weather & fix with our pattern pending Auto-Locking pulley for the ease of operation. Control by our tangle-free cord that ensure a smooth and ever lasting operation.
Double varnish on both sides using Nippon Timberlac which resist fungus growth for all natural varnished selection.
Black and white Colonial styles are painted with Nippon Bodelac 9000 for protection against corrosion and fungus growth.
Waterproof backings can be added by having canvas machine sewed into the slats for firm attachments with various choices for clear and coloured canvas.
Our bamboo blinds has proven to last more than 10 years in outdoor conditions and more than 20 years for indoors with proper care – periodically cleaning.
Bamboo BalconyBlinds is a product of Window-Cool designed to improve your outdoor spaces to be more cozy and comfy. Simple, economical and low maintenance.
For more information, Please feel free to contact us or call 6-2888-323
Periodically brush away built up dust with a brush and spray lemon pledge with Anti-Dust formula and wipe off the excess. This will keeps your blinds looking fresh and new.
Here are some of the installation we had done for your neighbours. If you have not done up yours and would like to find out more about our products & services. Check out our some outdoor blinds we have installed recently.